Welcome to the Geek & Sundry Wiki
Edit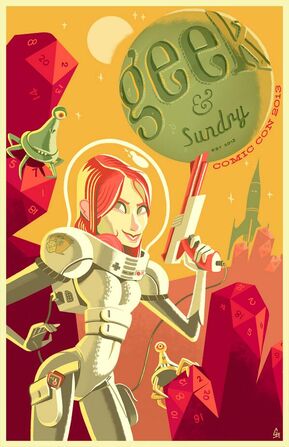 Welcome to the new wiki all about the Geek and Sundry Network!
The network includes the following Youtube channels:
We hope to make this a truly useful source of information about all your favorite G&S shows, so please help us expand its content.
Note: you may use other websites as references for basic data like cast lists, episode titles and air dates, etc., but please don't copy and paste whole descriptions of shows, episodes, creators, etc., from other sites. (We want this wiki to be unique!) Also, when creating a new page, be sure to remember to add a category. The wiki currently includes the following categories, but more may be added if and when they become necessary:
BONUS - CHARACTERS - CREATORS - EPISODES - INFORMATION - SHOWS
(This wiki is fan-created, and has no official association with Geek & Sundry.)
Geek & Sundry News
Edit
Latest activity
Edit
Photos and videos are a great way to add visuals to your wiki. Find videos about your topic by exploring Wikia's Video Library.