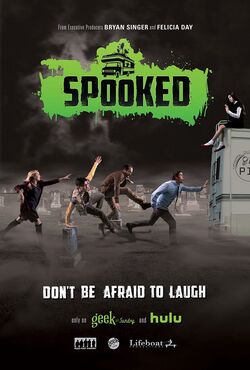 Spooked is a paranormal comedy series created by Michael Gene Conti. It's written by Conti and Felicia Day. Its executive producers include Day, Bryan Singer, Sheri Bryant, and Jason Taylor. It premiered on Geek and Sundry and Hulu on June 4, 2014. Its season finale was June 25.
For more information see Spooked (episodes).
Spooked is the story of a group of ghost hunters called the Paranormal Investigation Team. The P.I.T.s include their leader Connor, occult specialist Morgan, tech guy Lindsey (who also financed the team), fanboy Elliot (Connor's best friend), and a young girl named Piper (Connor's sister), who can talk to ghosts (but who rarely talks to anyone else).
Main cast
Edit
External links
Edit