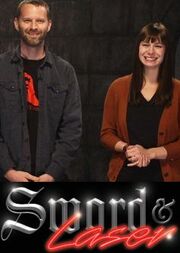 Sword & Laser is a fantasy & science fiction book club started by Tom Merritt and Veronica Belmont. Since February 2008, it has also existed as an audio podcast. On April 13, 2012, Sword & Laser premiered as a video show on Geek and Sundry, as one of the channel's flagship series (along with The Flog and TableTop). Its executive producers include Merritt, Belmont, Felicia Day, Sheri Bryant, and Kim Evey. Its first season ended March 29, 2013. In 2014, the show began a second season, independent of Geek & Sundry.
Format
[
]
For more information, see the Sword & Laser Episode Guide
In each episode, Merritt and Belmont discuss books they've read in their book club, and share some online responses from other members of the club. The show also has a dragon mascot named Lem (short for "Lord Bookwyrm Lem of Swaser," named in a viewer contest). Regular segments also include "Quick Burns", "This Day in Alternate History", a Calendar of upcoming book releases, and author interviews. In 2014, Sword & Laser began making some of the Google Hangout Videos of recording sessions available as a livestream and on YouTube.
External links
[
]