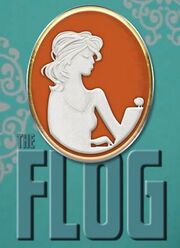 The Flog is a vlog created by Felicia Day (it is a portmanteau of "Felicia" and "vlog"). Its executive producers include Day, Sheri Bryant, Kim Evey, Brit Weisman, and Sean Becker. The Flog premiered on Geek and Sundry on April 2, 2012, as one of the channel's flagship series (along with TableTop and Sword & Laser). The first season ended on March 18, 2013. In 2014, selected episodes became available to watch on Hulu, though the series later disappeared from that site. The second season began on July 15, 2015. New episodes will be released on GeekandSundry.com on Wednedays, and on YouTube on Fridays.
For more information see The Flog (episodes).
The show was hosted by Felicia Day (though there were occasional guest hosts). Regular segments included Felicia's "Fave Five," in which she talked about her five favorite things that week (it was later shortened to "Top Three" or "Trio Mio"); "Skill Set," in which she learned random skills from professionals; and each episode ended with "Question of Note," in which she responded to viewer questions. Another occasional segment was "Retro Game Play Through," in which Felicia and her brother Ryon Day would play old video games (to make up for their not having any consoles when they were growing up). This segment later spun off into the series Co-Optitude.
External links
Edit