The Guild is one of the most hugely popular web series ever. It was created by Felicia Day, who wrote, produced, and starred in it. The first season premiered on YouTube on July 27, 2007. Seasons two through five premiered on various Microsoft services (Xbox Live Marketplace, Zune Marketplace, MSN Video), with episodes subsequently being available on YouTube and iTunes. Season five reran on Geek and Sundry from April 10 to June 26, 2012, after which G&S became the exclusive host of the sixth (and final) season, from October 2, 2012 to January 8, 2013. All six seasons are available on DVD. The first five seasons can now also be watched on Hulu.
Plot
[
]
For more information see The Guild (episodes).
The series centers on Cyd Sherman, a woman who has difficulties with social interaction, and escapes the real world by vlogging and playing an MMORPG called "The Game," as a character called Codex. She soon joins a guild called the Knights of Good, each of whom have their own eccentricities. Before long, their online interaction leads to real world interaction, and incredibly awkward hilarity ensues.
Main characters
[
]
Codex

(Cyd Sherman), played by Felicia Day

Bladezz

(Simon Kemplar), played by

Vincent Caso

Clara

(Clara Beane), played by

Robin Thorsen

Tinkerballa

(April Lou), played by

Amy Okuda

Vork

(Herman Holden), played by

Jeff Lewis

Zaboo

(Sujan Balakrishnan Goldberg), played by

Sandeep Parikh
Recurring characters
[
]
Avinashi Goldberg

, played by

Viji Nathan

Bruiser

, played by

J. Teddy Garces

Dena

, played by

Tara Caso

Donovan

, played by

Corey Craig

Fawkes

, played by Wil Wheaton

Floyd Petrovski

, played by

Ted Michaels

Kwan

, played by

Alexander Yi

Madeline Twain

, played by

Erin Gray

Mr. Wiggly

(George Beane), played by

Brett Sheridan

Riley

, played by

Michele Boyd

Valkyrie

, played by

Mike Rose

Venom

, played by

Teal Sherer

Wade Wei

, played by

Fernando Chien
Other media
[
]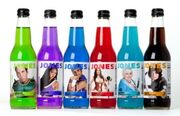 In 2010, Felicia Day wrote a 3-issue

comic book

miniseries, which serves as a prequel to the web series. Between December 2010 and December 2011, there was a series of one-shot comic books, each one featuring one of the Knights of Good. In May 2012, there was a

Fawkes

one-shot comic.
In 2011, Jones Soda released a limited edition Guild-themed six-pack.
In 2012, Cryptozoic Entertainment released a set of Guild trading cards.
External links
[
]