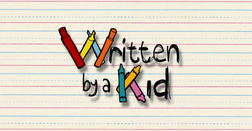 Written by a Kid is a wryly amusing series created by Will Bowles and Josh Flaum. Its executive producers include Felicia Day, Sheri Bryant, and Kim Evey. It premiered on Geek and Sundry on July 18, 2012. Its season finale was February 6, 2013. In 2014, episodes became available to watch on Hulu.
For more information see Written by a Kid (episodes)
Each episode features a different little kid who has written a story. The kid is interviewed about the story, which he or she reads (or makes up on the spot). The story is later enacted by actors or other people, many of them famous, so that we see it played out while the child is telling it.
External links
Edit